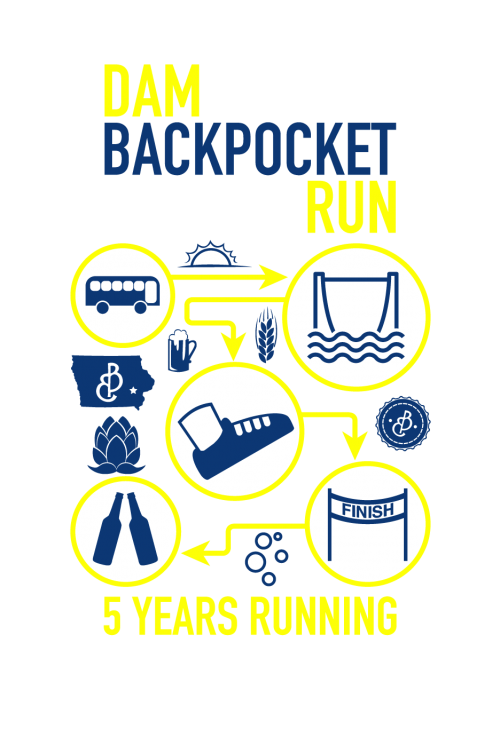 General Info
The Fifth Annual Dam Backpocket Run is August 19, 2017 @ 5pm
There are TWO different starts for the Dam Backpocket Run. Runners will park at the Iowa River Landing and will be shuttled to their respective starts.
Your registration gives you an awesome tshirt, Backpocket Brewing pint glass, with a party and beer after you finish, plus schwag from other sponsors! PLEASE BE AWARE THAT THE SHIRTS ARE GENDER SPECIFIC SO PLEASE SELECT YOUR SIZE ACCORDINGLY!
The Dam Backpocket Run is proud to work with the University of Iowa Dance Marathon as our charity partner! As many in the Iowa City/Coralville area already know, everything that UIDM does is FTK - For the Kids! The student organization supports children and families as they battle cancer. To date, Dance Marathon has raised over 18 million dollars!
Get in touch with us on Facebook, Twitter, Instagram by clicking on the icons to the left. Or, send us an email HERE.
As important as our great participants, we won't have a race without AWESOME VOLUNTEERS! We'll need all the help we can get to help with set up/ tear down, packet pickup, directing runners, manning shuttles, handing out water at aid stations, and various other simple, but necessary tasks. As a volunteer, you get all the same schwag as runners and you won't be as tired afterwards! Click HERE to sign up!

Stein Holding Contest
Are you signed up to race? Then you're signed up to participate, if you're tough enough, in the Dam Backpocket Run Stein Holding Contest! Hold a 1 liter stein full of beer perpendicular to your shoulder, for AS LONG AS YOU CAN! The winner gets A BEER A DAY FOR A YEAR!